Coming soon to the Village Hall
---
Welcome to our new, smart website
You have probably noticed by now, we have a new website. It has been redesigned with a much cleaner look. It's smart because the layout of the pages changes depending on whether you are viewing them on a computer, a tablet or a smartphone, so no more squinting to read tiny text. We noticed that more people of visiting our website on tablets and smartphones, so it will now be much easier to read and navigate on your smart devices. We would love to hear what you think. Please let us know at webmaster@m-y-f.com.
---
Village Hall to get Defibrillator
Following a lot of work from individuals in the village, the Village Hall and the Community Council, the Village Hall will be installing a Defibrillator. There was a demonstration of the Defibrillator at the Village Hall on Monday 27th October and the Defibrillator will be installed soon.

Presenting the new Defibrillator to the Village Hall. Left to Right:- Jerry Andrews (Welsh Ambulance Training Office), Julie Taylor (Chairman Michaelston Village Hall), Sharon Owen (Welsh Hearts), Counseller Gareth Davies.
---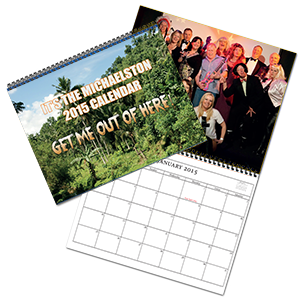 Calendar sales raised £200 so far
Sales of the 2015 Calendar based on the Village Hall's Get Me Out Of Here! show have so far raised £200 for MacMacmillan Nurses charity. There are still a few calendars available so if you haven't already got yours there is still time to help support this great charity.
The calendar is spiral bound and is designed so when opened out and hung on the wall shows a full page picture and a calendar for the month. Each month features one of the acts that appeared in the show. The calendar has a large area for each day which is useful for jotting down reminders.
It would make a great Birthday or Christmas present, or just a reminder of what a great night it was.
You can get yours for £5 each from Julie Taylor on 07974 474190. All proceeds from the sale of the calendar will be donated to MacMacmillan Nurses charity.
---
Keep Michaelston Rural Campaign
With applications for energy creation schemes such as solar farms and wind turbines in the Michaelston area on the increase, an action group, Keep Michaelston-y-Fedw Rural, has been set up to represent the local community in these matters. Their first meeting was held in the village hall at 7.30pm on Wednesday 23rd July.
The meeting outlined what Keep Michaelston Rural plans to do with respect to these planning applications and report on the progress of the Fairwater Farm application with the Welsh Government.
More information can be found at their website www.keepusrural.org.
---
Proposed Solar Farm in Michaelston-y-Fedw
A public meeting to discuss the proposed solar farm construction in Michaelston-y-Fedw was held on Thursday 1st May 2014.
Please click here to download a copy of the Minutes of the Meeting (PDF 109Kb).
---
Michaelston Music Night
The Michaelston Music Night was held of three nights this near, March 20th to 22nd, and was a great success with a wide variety of local acts. The winning act on both adult nights was Sister Beth and the Mad Monks of Michaelston (see video below).
---
New in Local Interest
Cefn Mably Arms - Recollection of a Family Pub
Landlords of the Cefn Mably Arms
Notes on the Kemeys Family of Cefn Mably (6.4Mb PDF File download)
Free Personalised E-mails
You can request a free personalised m-y-f.com e-mail address.

You can have anything_you_like@m-y-f.com provided nobody else has beaten you to it. So make sure you get your preferred address by requesting it now.

To request your personalised Michaelston e-mail address just email us stating the personalised email address you would like, i.e. john.smith@m-y-f.com.
Council Helpline
If you wish to report pot holes, flooding, make a complaint or simply an enquiry, the Council Helpline is 01633 656656.
Webmail
Click here to check your email online.
Don't forget, you can now use m-y-f.com for your email address.
Community Police Officer
PCSO Caroline Doidge can be reached on 07813 898049 or by email here.
For details of Mobile Police Stations please check the Gwent Police Website.
If you see any suspicious vehicles or individuals please call 101.